Almohad Caliphate


Capital
Sevilla
Ruler
Caliph Muhammad al-Nasir
Claimant
None
Culture(s)
Berber, Andalusian

Approximate area of Almohad Caliphate (light green) in the southwestern mediterranean context, 1200 AD[1].
The Almohad Caliphate is a faction in Europe 1200.
Background
Edit
Politics
Edit
The Almohad Caliphate is ruled by Caliph Muhammad al-Nasir.
At the starting point of the game, the Almohad Caliphate is at war with every single one of its neighbours: the christian hispanic kingdoms of Castille, Leon, Portugal and Aragon, the three iberian military orders of Aviz, Calatrava and Santiago, and also the almoravid Emirate of the Banu Ghaniya.
It could be asserted that, by the start of year 1200 AD, the almohad caliph isn't exactly the most popular person in the Southwestern Mediterranean.
Captains
Edit
Territory
Edit
Andalusian rural troop tree
Edit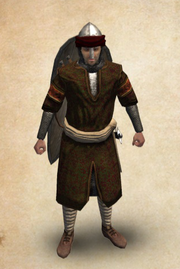 Berber rural troop tree
Edit
Urban troop tree
Edit
Professional troop tree
Edit
Noble troop tree
Edit
Forum signature
Edit

Ad blocker interference detected!
Wikia is a free-to-use site that makes money from advertising. We have a modified experience for viewers using ad blockers

Wikia is not accessible if you've made further modifications. Remove the custom ad blocker rule(s) and the page will load as expected.