The County of Toulouse is a faction in Europe 1200.
Background
Edit
Catharism is a doctrine professing the separation of the material and the spiritual existences. It conflicts with the orthodox confession. Toulouse was reached by this doctrine too. Called "heretics", the Cathars found a strong audience in the south of France, and during the 12th century. Simon de Montfort tried to exterminate them. The orthodox White Brotherhood pursued the hereticals Blacks in the streets of the city. The abbot of Foulques took advantage of this because the heretics were his creditors, and encouraged this inquisition. Some people joined the white fighters, others chose to assist the besieged population. The consuls did not wish to encourage the division of Toulouse, and defied the pontifical authority, refusing to identify the heretics. Raymond VI, Count of Toulouse, a Catholic, who was excommunicated for his dispute with the pope, later sympathised with the heretics because he saw the crusade take an unholy path with the extermination at Bézier.
Politics
Edit
The County of Toulouse is ruled by Count Raimon de Tolosa.
At the starting point of the game, the County of Toulouse is at war with the 
Kingdom of France
. In the near future, Toulouse will likely wage war against ...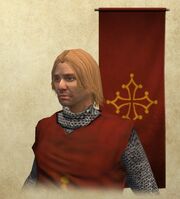 Bishop Guilhem de Peire
Prince Guilhèm dels Baus
Prince Peire Bermond d'Andusa
Count Aymar de Peitieus
Count Bernat de Comenge
Count Raimon Roger de Foix
Count Ucs de Rodès
Count Centols d'Astarac
Viscount Bernat de Tolosa
Viscount Raimon Roger Trencavel
Viscount Roger Trencavel
Viscount Aimerics de Lara
Baron Bernats Jordan de l'Isla
Sire Guilhelm de Montpelher
Sire Gerard Aymar de Monteil
Sire Dragonet de Mondragon
Geraut Trancaleon d'Armagnac
Pons Amaniers de Madaillan
Territory
Edit
Towns: Tolosa
Castles: Auch, Valença, Sant Gaudens, Albi, Carcassona, Foix, Beziers, Rodès, Monpelher, Milhau, Aurenja, Montauban, Marmanda, Menda, Andusa, Astarac, L'isla de Bais, Montbrison.
Villages: Muret, La Vaur, Bruniquel, Montesquiu, Saint Lizier, Galhac, Limós, Andorra, Narbona, Castres, Carlat, Lodeva, Montlaur, Monteil, Cahors, Agen, Marvejols, Alès, Leitora, Roanne
Rural troop tree
Edit
Urban troop tree
Edit
Professional troop tree
Edit
Noble troop tree
Edit
Ad blocker interference detected!
Wikia is a free-to-use site that makes money from advertising. We have a modified experience for viewers using ad blockers

Wikia is not accessible if you've made further modifications. Remove the custom ad blocker rule(s) and the page will load as expected.